Eva Lopez Miranda is one of the leading artists of a generation that emerged in the wake of the post terrorism years. She was born in Lima, Peru. She was inspired to attend and graduate from the School of Fine Arts of Peru by the portraits created by the famous Peruvian painter Carlos Baca-Flor.

Lopez's work has been exhibited in many galleries in Peru as well as in the USA and Spain. She has been honored and awarded numerous times. In 2006 her watercolor "La Chira" obtained first place out of 212 works in the Peruvian-American Institute Watercolor Contest.
Eva Lopez specializes in realist oil and watercolor paintings. Even though her technique may be considered to be traditional and classic she uses some post-modern elements. Lopez paints children, men, women, and nature with a touch from the ancient Inca and Pre-Inca cultures.

Lopez always lived near the Pacific Ocean and has developed a special relationship with the sea. In her paintings she reflects what she sees and how she feels at the same exact moment. For many, her watercolors are an invitation to meditate. She promotes ancient Peruvian culture with images that seem to emerge from within her country's soul. She simply says: "I just try to recreate a moment of our life".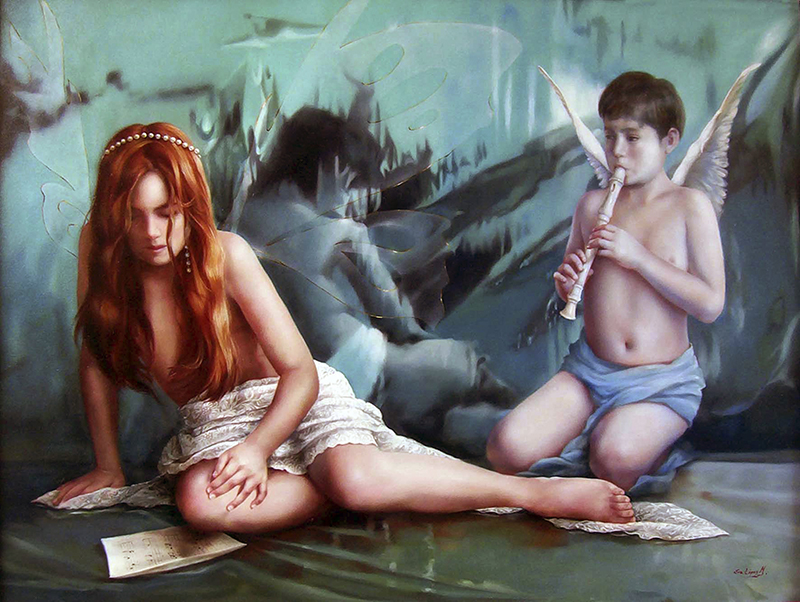 The Soul of Music - Celeste, El Alma de la Música
39.5 " x 51.5" Oil on Canvas


Peruvian Wisdom - Sabiduría Peruana
40" x 30" Oil on Canvas